Events are sorted by date
Visit the Easter Bunny at the Foothills Mall for professional photos from March 17-31.
Learning Espress Toys Fort Collins will be hosting the Easter bunny at their Fort Collins Location on March 21, 24, 26, & 31.
Integrated Pediatric Therapy Associates is hosting a special easter event on March 24 with egg hunts for all ages and abilities, a petting zoo and clothing swap.
First United Methodist Church of Greeley is hosting their Easter egg hunt on March 24.
Enjoy the Easter egg hunt, coffee and bounce houses at the Severance annual Easter event on March 24.
First United Methodist Church in Fort Collins is hosting an easter egg hunt with food, games, music and live animals on March 24.
The Old Town Library in Fort Collins will be hosting a glow-in-the-dark egg hunt for teens on March 30 with snacks, crafts, music, karaoke and more!
Join the Windsor Community Rec Center on March 30 for underwater egg dive, traditional egg hunt, open gyn, and prizes!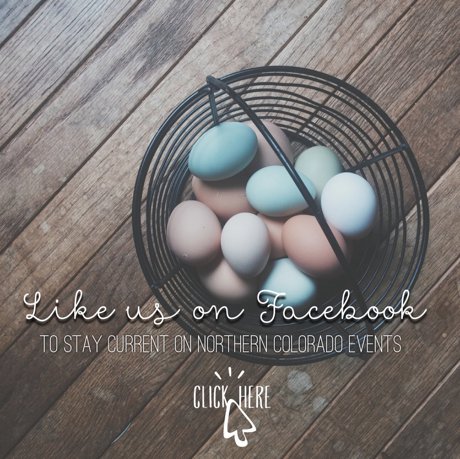 Glow in the dark egg hunt with bounce houses, snacks, crafts and games for the whole family hosted by Journey Church Windsor on Friday, March 30.
Join Jax Loveland Outdoor Grear, Ranch and Home for photos with the Easter bunny on Saturday, March 31st!
Meet the farm animals and enjoy an egg hunt at Zippity Zoo's Barnyard in Loveland.
Free Eggstravaganza at Gulley Greenhouse on March 31 with photos with the Easter bunny, baby bunnies, scavenger hunt, face painting and ice cream truck!
Egg Hunt, face painting, bounce house and more! March 31 at White Fields Community Church.
4th Annual Easter Egg hunt at City park on March 31 with Bounce Houses, Carnival Games, Cotton Candy, Easter bunny and more!
Underwater egg hunt, crafts and face painting at Longmont's Centennial Pool on March 31.
Enjoy Easter brunch the way you've always wanted! Egg hunt, mimosas, beer-moses, breakfast burritos, breakfast pizza at The Hop Grenade Taproom in Fort Collins on Easter Sunday, April 1.
Email me with details at Joanna@gyrathrealtygroup.com to have your event added to this list.